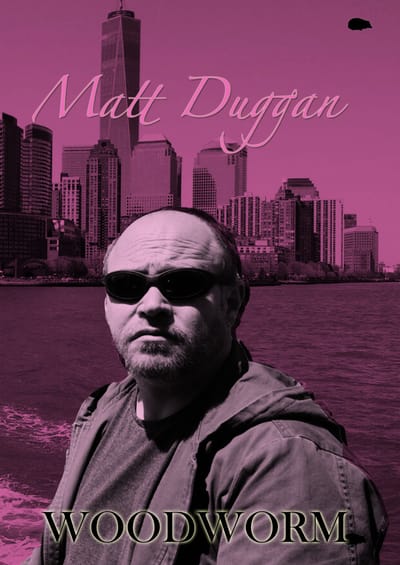 Born in Bristol U.K. in 1971

Matt Duggan started writing poetry when he was around 14 or 15 years old and started to submit poems, getting them accepted in journals and magazines with poems accepted in the late 1980's and early 1990's in journals such as 'The Ugly Tree', 'Connections', 'Outlaw', 'The Seventh Quarry', 'Carillon', Matt started organising his own poetry events hosting regular nights to support and inspire the local poetry scene in Bristol, which started with an event called 'An Evening of Spoken Indulgence' held at Hydra Bookshop, an anarchist bookshop in central Bristol, this event ran from 2013 -2016 and was followed by other events such as 'Page and Performance' and 'Verse', Matt hosted these events with no funding from 2013 – 2018.

In 2015 Matt entered the Erbacce Prize for Poetry Competition with his first full collection of poems Dystopia 38.10 (erbacce-press) which was a free competition to enter and won the competition from well over 5,000 entries, he also won the first Into the Void Poetry Prize in 2016, his work has been including in various journals across the world that include The Journal, Into the Void, A Restricted View from Under the Hedge, Harbingers Asylum, Osiris, Ink, Sweat and Tears, Marble Poetry Magazine, Algebra of Owls, The High Window, Black Light Engine Room, Eyeflash Poetry Magazine, Midnight Lane Boutique, Graffiti, Prole, The Fat Damsel, Confluence, Anapest Journal, Dodging the Rain, London Grip Magazine, Proletarian Poetry, in 2017, Matt became a core member at Erbacce Press where he helps read for their annual poetry competition, organised events and interviews various poets from around the world for their Journal. Matt has read his work in many venues in the U.K. in Greece, Poetry on the Lakes in Orta, Italy, toured the U.S.A. reading in Boston, New York, and read at his first U.S. book launch in Philadelpia reading from the publication of two of his chapbooks 'One Million Tiny Cuts' (Clare Song Birds Publishing House) and a 'Season in Another World' (Thirty West Publishing House).
His second full collection 'Woodworm' (DELUXE EDITIONS) (3D) is published by (Hedgehog Poetry Press)
and is now available for pre-sales.